The social media landscape is constantly changing. In the last few years, Facebook has rolled out cover photos, altered friend-finding algorithms, and tweaked privacy policy faster than many users can follow. It's a lot of work keeping pace with these changes, but by sticking to a strategy that focuses on quality and engagement, you can develop an effective communications campaign without much heavy lifting. We'll show you how.
Identify the Opportunity
In case you missed it, last Friday was national "Take Your Dog to Work Day" and our social media ninjas used that opportunity to capitalize on two of their favorite things: dogs and social media.
Admittedly, we had a "leg up." Every Friday is "Take Your Dog to Work Day" at Nyhus Communications. But we knew companies across the nation would be joining us that day. We also knew that USA Today and their online story-sharing feature "Your Take" was jumping on board, soliciting readers for pictures of their canine coworkers in the office.
Execute on the Strategy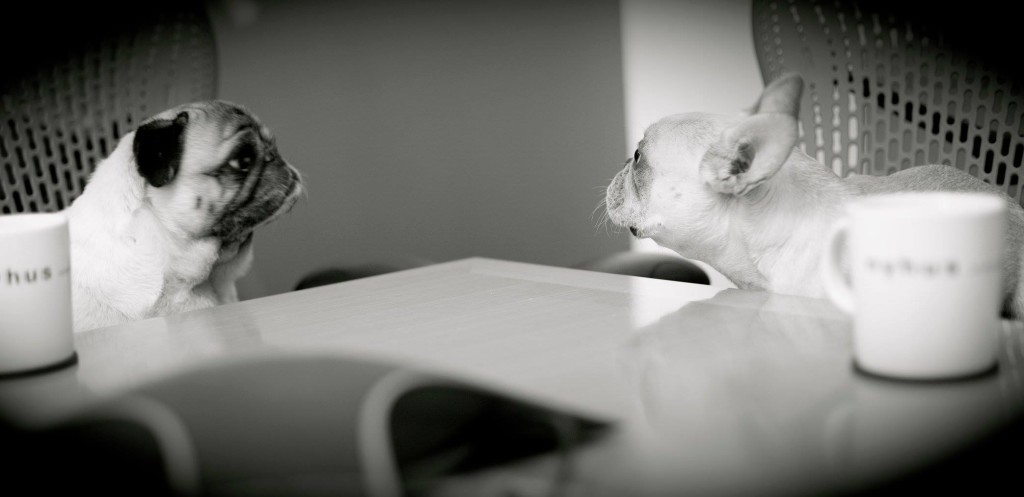 Within a few minutes, we had Watson (the French Bulldog) and Pumba (the Pug) in front of the camera, checking the news, and leading their own internal meeting. We snapped photos, added some editing flair and paired the shots with catchy content. Then we shared our content on Facebook and on Twitter with USA Today, encouraging others to do the same.
The photos spread across the country, appearing on the front page of USAToday.com's "Your Take," garnering thousands of Facebook and Twitter impressions, and putting Nyhus Communications in front of thousands more. It cost us nothing to promote and took our social media ninjas just a few minutes to plan and execute.
The Takeaway
If you are a business offering products or services and promoting yourself through Facebook, you have to act creatively to set yourself apart from the competition. Whether you're investing $30 each day, each month, or if you can't afford to spend any money, your content is fighting for space with thousands of friends, groups, events and other business pages. Plain text content won't cut it.
Remember what sells. Did you post high resolution images, include snappy captions, and give users a call to action? Did you link back to your website? Are you monitoring and jumping on trends as they happen? An easy way to not leverage social media correctly is to rely exclusively on pre-planned and dry content. Like a good conversation, show off your knowledge of current events, use trending hashtags and be prepared to engage and include other users in your posts.
Social media content generation can be a fun process, easily duplicated and adapted for your needs or those of your client. Just remember:
Identify a trend
Target  "amplifiers" like USA Today or industry publications
Include hi-resolution images & creative copy
Have fun with it
Remember: if you take the time and effort to make your posts unique, then people will notice.
Do you have amplifiers that you can rely on for spreading your message? Share your strategies in the comment section below.